>> January 14, 2011
Notice my mom's eyes on the ever mischievous brothers?
Mercy me!
When I was a young tormented baby sister, I remember my brothers would sit on me, pin my arms to the ground, and proceed to repeatedly poke a finger into my chest and taunt me. "Say mercy. Say mercy."
Looking back on it, I think the objective my brothers had in mind must have been to see who would actually cry out for mercy and end the torment, me or my mom. Was I tough enough to endure the torture before my mom had mercy on me and put an end to it?
"Ricky! Gordon! Leave her alone."
I win… that round anyway.
Humanly speaking, mercy is the act of compassion, particularly on the helpless. In the illustration above, my mom was the one who truly exercised mercy. If I had called out mercy, it would be better defined as forced surrender because I knew neither brother would truly 'have mercy'. If they did, they'd quit the moment my chest was red or tears slid into my ears whether I asked for mercy or not.
Mercy is a very confusing term. I can't even say that I fully understand it but I'm going to give it a shot anyway.
Let's start with the Mercy Seat that is known as the lid of the Ark of the Covenant. This is where blood was sprinkled on the Day of Atonement. The Mercy Seat represents God's throne.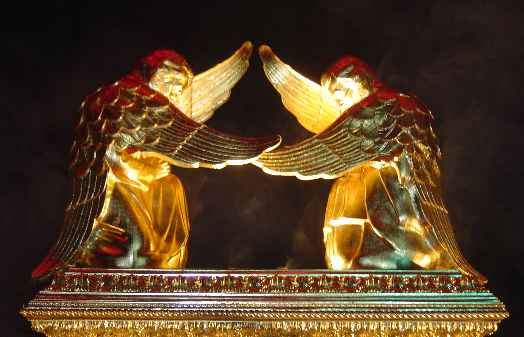 When I hear the words, God's Throne, in my mind I hear judgment. If the Mercy Seat represents God's Throne (judgment)…and blood is sprinkled on it for atonement of sin, then it seems to make sense that if God accepts the Atonement offering, then He is having mercy on the sinner and giving them another chance.
In the Psalms, David prayed many times "Oh Lord have mercy on me…" and believe me, I've prayed that prayer a time or two before I even really understood it.
I remember praying it out loud one time when I was dealing with past issues wrapped in unnecessary guilt. A friend wrapped her arms around me and let me weep, deep, groaning, tormented sobs. Her arms around me were filled with God's mercy for me. I thought I was repenting, asking for forgiveness, but now that I look back on it, God showed me what mercy really is. He showed me that the past is the past and just because I revisit it on my own and feel the weight of guilt doesn't mean He hasn't forgiven me.
Someday everyone will stand before God's judgment throne where mercy will no longer play a role, but for now His throne IS the mercy seat.
Hebrews 4:16 says "Let us therefore come boldly to the throne of grace, that we may obtain mercy and find grace to help in time of need."
Let me leave you with a video of a song that reminds us not to be timid before the mercy seat…but to come running. His arms of mercy are waiting to hold us and free us from the torment of unnecessary guilt of forgiven sin.